So Cal Historyland
The Riverside-San Diego County Backcountry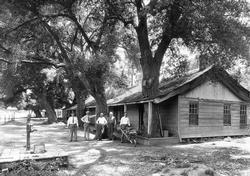 Even though I grew up in Orange County, I've spent a lot of time rummaging around the backcountry of Riverside and San Diego counties. The hill country, the brush country, the high country. Especially the area from Temecula south to the desert.
--Phil Brigandi
The Aguanga Store
If later accounts are correct, 1996 was the centennial of the old Aguanga Store. The place has a long and interesting history.
The story begins with George F. Smith (1853-1921), an Aguanga homesteader, who opened a store on his ranch in 1896 (or just a little after). Smith called his store the "Valley Store", it was located across the highway from the present store, beyond the creek. In 1901 Smith also took over the local post office, which had been established in 1894 as the Bergman Post Office (named after the famous old pioneer family there). Smith changed the name to the Aguanga Post Office and served as Postmaster until 1912.
Smith, I gather, was a rather crusty character. Besides the store he added an adjoining harness shop. In 1902 the Hemet News noted that he "keeps in addition to his stock of merchandise a good supply of hay and rolled barley for travelers."
In 1912, Smith turned the store and post office over to Dave and Pearl Ellsworth, who ran it for him. Pearl, a step-daughter of Anza-area rancher Frank Clark, became the Postmaster. The Ellsworths were much friendlier, and much better liked than their landlord. After the floods of 1916 the store building (along with the old schoolhouse) were moved to higher ground across the road at the current location of the store. The schoolhouse still stands.
The Ellsworths left the area in 1919 and the store was sold to Charles and Nellie Stotts. Mrs. Stotts (who took over as Postmaster), enjoyed running the store, but her husband apparently did not. He tried to sell out in '21, but the deal must have fallen through, and they owned the store until 1924. By that time, it was called the Aguanga Valley Store.
The new owners in 1924 were James and Georgianne McClenney from Riverside. McClenney had been a flyer during World War I. He set to work improving the old store building, even bringing in piped water. Once again, it was his wife who became the Postmaster.
McClenney's tenure as storekeeper ended in a dramatic fashion. In June of 1925 he found his wife dancing with Alfred Nuckols, a local immigration officer, at a dance at one of the backcountry schoolhouses. She swore there was nothing "flirtatious" about it, but McClenney vowed to track down Nuckols and "have it out" with him.
He found him on the road, near Encinitas. Nuckols got into the front seat of the car with McClenney while Mrs. McClenney and their four children sat in the back. An argument began, and McClenney grabbed Nuckols' gun. Then, according to the Hemet News, "Nuckols reached over into the back of the machine, where it is said there were two automatic pistols and seized one of them. Then the two began shooting and they shot only a few inches apart." McClenney was shot nine times, and died on the scene. Nuckols took eight slugs, but survived. A Coroner's Jury ruled the killing "justifiable homicide".
Mrs. McClenney ran the store for a while longer with the help of her mother, then sold out to Al and Elsie Wolf. Their time in Aguanga was brief. In 1927 the Wolfs traded the store to Charles and Grace Clark.
The story of the century-old Aguanga store (begun here last week) has a few more twists and turns in it before it's done. We left off in 1927 with Al and Elsie Wolf (who got the store after Jim McClenney was shot to death in a fight with a man he found dancing with his wife) turning the store over to Charles and Grace Clark. Their son, Richard Clark, still lives in Hemet. He writes,
"In November 1927, my folks Charles and Grace Clark were to buy the Aguanga Store from my mother's cousin and her husband, Alfred and Elsie Wolf. They moved out and took over the store and a few weeks later my sister Louise was born. After a short period of time business began to pick up, so Elsie decided not to release the postmasters job. Dad made some arrangements with O.A. (Arlie) Bergman to either rent or lease some property just east of the Aguanga Store and built a store there. It was known as the Cienega Store.... It didn't take long until people were going there for their groceries instead of Aguanga, so Elsie wanted the folks to take over the Aguanga Store again. This time they made her resign from the post office....
"When the folks moved back to Aguanga, the Cienega Store was dismantled and brought back to Aguanga and put up on the east side of the store as a garage. The mechanic was Bud Hines."
When the highway was realigned in the early 1930's the old store was torn down, and the Clarks built the present building just north of the old site. They also put in two genuine gasoline pumps, to replace the old 55-gallon drum fuel had been sold from. In 1933, when a Civilian Conservation Corps (CCC) camp was established nearby the Clark's also built a four-table pool hall just west of the store (long a cafe and now a real estate office).
The rebuilt Cienega Store was torn down in the 40s and in 1948 or '49 the Clarks built a new garage next to the store. In later years the Thatcher's had a Western wear store in the building. It burned in 1984 in an arson fire.
The Clarks were a well-known and popular part of the Aguanga community for many years. After a quarter century in business, in 1952 Annie Bergman bought them out.
Annie Bergman was the widow of Arlie Bergman, who had been killed in a horse accident in 1948. With the help of her brother, Carl Mendenhall, Annie ran the store until 1968. She also served as Postmaster until 1963. She died in 1998 at the age of 102.
Continuing a long line of women Postmasters in Aguanga (there is really no such title as "postmistress") Dee Kroll served as Postmaster there from 1969-1985.
Ralph and Medella Thatcher acquired the store from Annie Bergman in 1968, and added their clothing store next door a few years later. Ralph Thatcher died in 1985 at the age of 63, shortly after retiring from the store. His family owned the store for many years until the Bergman family took it over again in 1999.
Bill Fain - Backcountry Badman
Bill Fain had quite a reputation in the backcountry. Born in Tennessee in 1858, Fain arrived in this area around 1880, "and announced himself as a bad man from Texas." Originally he lived with his uncle, Jim Fain, who had settled at the little crossroads community of Radec in the 1870s. But before long, they had a falling out, and Bill Fain set out on his own.
In the spring of 1883, Fain moved up to San Ignacio, on what is now the Los Coyotes Indian Reservation above Warner Hot Springs. The fact that there was already an Indian village in the valley did not seem to bother Fain. Author Helen Hunt Jackson came through Warners just a few weeks after Fain arrived, gathering material on the Indians that would eventually make its way into her classic novel, Ramona. Fain had already filed a homestead on the Indians' land, and was building up the place, "his belt full of cartridges and pistols". "He was a rough fellow," Jackson wrote, "at first disposed to be defiant and blustering". He had offered the Indians $200 for their land, which they had refused, but announced that he would stay anyway. (Jackson later used this event as a little scene in Ramona.)
In the meantime, Fain's relations with his uncle were going from bad to worse. In May of 1884, Fain rode up to his uncle's house. A mutual friend, Albert Lancaster, was sitting with Jim Fain on the porch. The two Fains started yelling, and when Jim Fain drew his pistol, Lancaster ran for cover. In another moment, Jim Fain was dead.
At the inquest, held before Judge John Magee of Temecula, Bill Fain testified that his uncle had thrown him off the ranch some years before, and had "several times made threats that he would kill him". He claimed that his uncle had fired first. Albert Lancaster could not say, as he was running for barn. In the end, the jury, that included Temecula pioneers Louis Wolf, Louis Rouen, R.J. Welty, and E.J. Tollan, ruled that Fain had "done the deed in self defense". The County Grand Jury later indicted Fain, but in a jury trial, he was found not guilty.
But many of the old timers called it murder. Judd Tripp, whose family bought the Fain place at Radec after the shooting, always claimed that there was an Indian eye witness who could have told a very different story, but he could never be found to testify. And in fact, in Fain's testimony before Judge Magee, he said that his uncle, Albert Lancaster and "an Indian" were there when he rode up. And that Indian is never mentioned again. What's more, a few years later, when Fain was back in court on an assault charge, another Indian witness refused to testify, saying "that he feared Fain would kill him should he tell what he knew."
As Bill Fain's reputation spread, he filed a homestead in Lost Valley, in the mountains above Warner Hot Springs, probably on behalf of Mesa Grande cattlemen Jim and John Stone, who had been running cattle there for some years. He also filed a water claim on Coyote Creek, down on the desert. And he got in more trouble.
Like Fain, Chat Helm (1824-1905) had also laid claim to Indian land at Los Coyotes, and Fain had to cross Helm's place at San Ysidro to reach his claim at San Ignacio. Reportedly Fain had taken an interest in Chat Helm's daughter, and Helm was less than pleased. From that day on, there was bad blood between them.
In 1887 the two got into a gun fight. Between them, they fired 40 or 50 shots with their Winchester rifles. Both men were charged with assault to kill. After two trials, the charges were dropped, and both men were bound to keep the peace.
Still the feud continued. Knowing that Helm's claim to the Indians' land was being contested by the government, Fain wrote to Washington offering to supply evidence against him. He said Helm "is a bad man and the Indians are afraid of him. I can find plenty of evidence to prove that Helm took forcible possession of the Indians lands and kept them off by force". He neglects to mention that he had done the very same thing at San Ignacio. It was not until 1889 that Helm, Fain, and the other white settlers on the mountain were forced out by the government and the Los Coyotes Indian Reservation was established.
Then in one of the strangest turns in the story, in 1888 Bill Fain was elected Constable of the Agua Caliente Township at Warners. Using the authority of his new office, he had Chat Helm arrested for a 12-year-old murder. In 1877, the Indians had tried to run Helm off their land, and burned his house at San Ysidro. During the fire fight, an Indian named Francisco was shot and killed. Fain, it was said, held Helm for the crime just long enough to extract a promise from him to keep the road open to San Ignacio, and to pay Fain an unspecified sum for "the costs of the arrest." But Helm later proved that the promise was made under duress, and got out of paying the money.
By this time the San Diego papers were picking up the story. In the spring of 1890, when Helm filed new charges that Fain had threatened to kill him, the San Diego Union wrote it up like some sort of Western dime novel. Fain, they said, was known locally as "Billy Profane" (apparently he had quite a command of the subtleties of the English language). Helm had recently blocked the road across his place at San Ysidro, and Fain he said had threatened to kill him. When the case came up before Judge S.V. Tripp (who had bought Jim Fain's old place at Radec), he asked that all firearms in court be surrendered, "and in a short time there was stacked behind the Justice's chair four Winchester rifles, six Colt's revolvers, nine revolvers of other descriptions and a miscellaneous supply of bowie and other knives," the Union reported. In the end, the case was dismissed, the road was still blocked, and more lawsuits were expected.
By now, Fain's antics were getting to be too much for some of the local voters. In June of 1890 there were calls for his removal as Constable. But Fain beat them to the punch, resigning a month later.
In the meantime, Fain had found a new enemy. In 1888, Joel Reed had filed a claim at Santa Catarina Spring in Coyote Canyon, not far from where Fain had made his desert water claim some years before. Fain soon made it clear to Reed that he did not want him around. But Joel Reed was not a man to be bullied. He took to carrying a loaded rifle, in case Fain should try to jump him. In 1889 that led to another tragedy. Reed was on the road with his six-year-old cousin, Leonard Reed. Little Leonard had jumped down under the wagon to retrieve a hat, when Joel's rifle fell, and fired through the bed. Leonard Reed was killed; his grave can still be seen at the little cemetery in Radec. His brother, cowboy historian Lester Reed went to his grave blaming Fain for the accident.
In 1891 it came time for Joel Reed to prove up his claim, and he brought down Frank Hamilton and Will Tripp to serve as witnesses. According to Judd Tripp (Will's brother), Fain hid up in the rocks, and fired three shots that hit the ground very close to Reed. Hamilton and Tripp ran for cover, but Reed just laughed at Fain's attempts to run him off. "Fain never could get along with anybody," Judd Tripp recalled.
It was not long afterwards, after a final fight with Chat Helm, the Fain left San Diego County and headed for the Arizona Territory. He settled down in the Yuma area, married a daughter of Captain George A. Johnson, a pioneer steamboat captain on the Colorado River, and started a family.
But by 1901 he was back in court again. He was charged with accessory to murder in the death of Mrs. J.J. Burns, who had been involved in a land dispute. Fain was arrested, but escaped. Later he claimed he feared Mrs. Burns' family, the Kings, were out to get him. Fain managed to get his trial moved to Prescott, where the charges against him were eventually dropped. Then Mrs. Burns' father was found dead, and Fain was suspected of the murder. Again the rumors flew the Kings were out to get Fain before the law did. But Frank King (Mrs. Burns' brother) wrote a public letter announcing that "None of my family are looking for Fain". But adding that, "If we were we could have found [him] before this time."
Things went from bad to worse for Fain. While he was in jail, awaiting trial on the Burns charges, his wife died of tuberculosis. He was later reported to have stabbed a man over a game of cards, and done jail time. Eventually, the folks in San Diego County heard that he was dead.
Then in 1929, Bill Fain reappeared in the backcountry. Whether he came looking for old friends or old enemies, he found very few of the old timers left. He lingered for a few months, then went back to Yuma where he died before the year was out.
Bill Fain had worked hard to establish his reputation as a man not to be trifled with. It seems to have gained him very little. Gun battles, court battles, incarceration, and unhappiness followed him for much of his life. And while we will never know all the facts, his reputation as a badman lives on.
Mission Outposts
An article I wrote for the Journal of San Diego History in 1999 (I'm so delighted to see them putting their journal online to share with everyone):
"The Outposts of Mission San Luis Rey"
Fr. B. Florian Hahn, backcountry missionary
It was not just the early Franciscan missionaries who ministered to the Indian villages in this area, later generations of Catholic priests continued to make their rounds on into the 20th Century, and one of the most remarkable was Father B. Florian Hahn.
Born in Germany in 1849, Father Hahn came to America as a young man, and attended seminary in Ohio. In 1890 he was placed in charge of the new St. Boniface Indian boarding school at Banning, where he served for nearly 25 years. From there, he spread his efforts out to Indian villages and reservations across Riverside and San Diego counties. "Fr. Florian used to go on missionary trips and bring back with him to the school any forlorn or uncared-for
Indian children," the Hemet News later wrote. In 1912 he was also placed in charge of St. Anthony's Catholic parish in San Jacinto.
Over the years, Father Hahn and his assistants offered Mass and performed other sacraments at the villages at Santa Rosa, Soboba, Morongo, and on the Cahuilla Reservation near Anza.
Father Hahn also supervised the construction of several chapels on the local reservations. Around 1894 the Chapel of St. Francis was built at Warner Hot Springs under his direction. In 1896 chapels were built at Morongo and Cahuilla. In 1904 he saw to it that a new chapel was built at Torres-Martinez, at the southern end of the Coachella Valley, and finally in 1912 he established a new mission chapel at Palm Springs.
Father Hahn also participated in the dedication of a new chapel at Soboba in 1910, and led the music for the Mass. Music was another of Father Hahn's strengths, and his St. Boniface band offered performed around the county. Father Hahn "could play every instrument in the band," the Hemet News noted.
The Cahuilla chapel -- Our Lady of the Snows -- served until the 1918 Earthquake. The chapel at Morongo stood until 1978. The chapel at Warners (recently repaired) is still in use, though the Cupeño village there was evicted in 1903. Father Hahn had been there then, giving what comfort he could to his Indian parishioners. He saw himself walking in the footsteps of California's first Indian missionary, Father Junipero Serra, and tried to live a life of equal dedication and compassion.
In 1913 Father Hahn left St. Boniface to take charge of the St. Francis de Sales parish in Riverside. Though failing in health, he still proved a blessing to the non-Indian congregation at St. Francis.
Father Hahn died in 1916, and is buried in the old St. Boniface cemetery in Banning (the only physical reminder of the old school). At the time of his death the San Jacinto Register noted,
"For almost 25 years Father Hahn was stationed at Banning where he had charge of the Indian school. During that time he was a frequent visitor to San Jacinto, officiating at the Catholic church here and at the mission at Soboba. His work covered all the Indians of this region. The Indians all loved him and his missionary labors among them were most successful. When the hard riding over the mountains and desert became too difficult he became pastor of the Francis de Sales church in Riverside, where he remained until his health forced him to give up entirely. His heart was affected.... Wednesday morning the body was laid to rest at the Indian school at Banning, beneath the great spreading trees which he loved so well in life."
Law But Not Fact, Land Tenure and Legal Fiction on the Warner Ranch
How not just the Indians, but J.J. Warner himself were stripped of their rightful claims to the land. Published in The Branding Iron (the historical quarterly of the Los Angeles Corral of The Westerners), Fall 2010.
"Money will never make you happy -- and happy will never make you money. That might be a wise crack, but I doubt it." -- Groucho Marx, The Cocoanuts (1929).
© Phil Brigandi