So Cal Historyland
Ramona - History and Myth in Southern California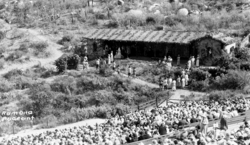 I've been chasing after Ramona for more than 30 years. Helen Hunt Jackson's 1884 novel changed Southern California in ways she never could have imagined.
--Phil Brigandi
The Ramona Myth - Southern California's Fantasy Heritage
Ramona has been discussed, debated, and disparaged for more than a century now. Yet no one can deny the impact Helen Hunt Jackson's 1884 novel had on Southern California-even if it was not the impact the author had in mind. Jackson (1830-1885) hoped her story would be a call to arms-an Uncle Tom's Cabin for the American Indian that would lead to genuine government reform.
But Jackson feared that if she made her plea directly, most readers would not respond; so she decided to 'sugar-coat' her reform message in a love story set in 1850s California. "What I wanted to do," she explained, "was to draw a picture so winning and alluring in the beginning of the story, that the reader would become thoroughly interested in the characters before he dreamed of what was before him-and would have swallowed a big dose of information on the Indian Question without knowing it." Readers across the country were thoroughly interested in Jackson's story, but most of them failed to see her message.
Then something happened that Jackson never could have foreseen. In 1886, railroad competition touched off the most frantic real estate boom in Southern California's history. In less than two years, dozens of towns and hundreds of subdivisions were laid out, while thousands of tourists flooded into the region. Ramona became a sort of guidebook for them, and the set out to find the places mentioned in the story.
And where there are tourists, there are always promoters ready to give them what they want. Books and articles followed, claiming to unravel the 'facts behind the fiction'-not just the settings, but the incidents and characters of the story. Jackson had asserted that all the "Indian history" in her story was true, and it is; but now the mythmakers sought out "originals" for even the smallest details of the story.
The Rancho Camulos in Ventura County endured the brunt of the earliest Ramona tourism. Jackson's use of some descriptive details from the rancho prompted tourist writers to dub it "The Home of Ramona," and the tourists descended by the thousands. That title did not go undisputed however. The Rancho Guajome, near Vista, was also put forward as the "real" Home of Ramona; but it never enjoyed the same notoriety as Camulos.
In one sense, there is nothing strange about what happened to Ramona. Many works of fiction have been seized upon by local promoters and used to generate tourism. Visitors to Hannibal, Missouri are still shown the fence Tom Sawyer tricked the boys into whitewashing. Guidebooks to places connected with Gone With the Wind are sold in Georgia. Even Madison County, Iowa enjoyed a boost in local tourism. Every region has its own literary and historical myths-Ramona is simply Southern California's regional literary myth.
Twenty-five years after Ramona was first published, interest in the story was running higher than ever. In the early 20th Century, actual commercial tourist attractions began to appear to cater to the public's belief in a "real" Ramona. The first, around 1908, was Ramona's Birthplace in San Gabriel, at an adobe that also claimed to be the home of the world's largest grapevine-two attractions for the price of one.
Much better known was Ramona's Marriage Place, in Old Town San Diego. Ramona tourists had been visiting the Estudillo Adobe along the plaza since the 1880s. When the local streetcar company was preparing to extend their line to Old Town, they bought the old adobe, restored it, stocked it with curiosities, and hired an old showman named Tommy Getz to run the place. Ramona's Marriage Place opened in 1910, and was a popular attraction for more than half a century.
As late as 1928, Robert E. Callahan, a Los Angeles promoter, announced plans for the Ramona Indian Village in Culver City. Renamed the Mission Village a few years later, it survived as a tourist attraction on into the 1960s.
Hollywood was quick to see the value of the Ramona story. Over the years, there have been five different film versions; the first in 1910, starring Mary Pickford. The theme song for the 1928 Dolores del Rio version became a million seller, and remained popular for decades. Others remember Loretta Young and Don Ameche in a Technicolor version filmed at Warner Hot Springs in 1936. As recently as 2000, a Spanish-language "telenovela" adaptation was produced in Mexico.
Ramona was also adapted many times for the indoor stage, but it was not until 1923, when the annual Ramona Outdoor Play was launched in Hemet, California, that a successful dramatization appeared. The outdoor version recently celebrated its 80th Anniversary; it has been honored as the California State Outdoor Play, and the oldest continuing outdoor drama in the United States.
Beginning in the 1940s, two factors began to chip away at the Ramona Myth. In an effort to dismiss the Myth as unhistorical, many scholars began to attack Jackson herself, and her story, not just its unintended results. More damaging was the huge influx of new residents, beginning after World War II; most of them unfamiliar with the Ramona.
The last few years have seen a revival in Ramona scholarship, as a new generation of scholars takes a fresh look at Jackson, her intentions, and what she actually accomplished. New studies of the Ramona Myth have also been launched, in an attempt to get beyond mere tourism, and understand the full impact this "Fantasy Heritage" had on the development of Southern California.
The Origins of the Ramona Myth
Traces the earliest references of the belief (still strong, I can tell you) in a "Real Ramona." Published in The Branding Iron (the historical quarterly of the Los Angeles Corral of The Westerners), Winter 2005.
The Real Ramona...
Still the debate rages . . . was there a "real" Ramona?
Ramona Lubo, the widow of Juan Diego, is often given that title. But what about her real life? For years now, I have been gathering up bits and pieces of her story -- from contemporary accounts, interviews with her son, and other sources. The story -- as best as I now understand it -- goes something like this:
Ramona Lubo was born around 1853 in the village of Sahatapa in San Timoteo Canyon. This was the home of Juan Antonio, the famous old Cahuilla chief. Her mother died when she was very young, and she was raised by her father, Jose Maria Lubo, along with her brothers, Paulino and Santos.
When Ramona was about ten years old, a smallpox epidemic swept Southern California, and eventually reached Sahatapa. In fear, the villagers fled, leaving behind some of the sick, including Juan Antonio himself, who died there early in 1863.
Ramona and her family first went to the Cahuilla Valley, but soon the smallpox followed, and her father, too, fell victim to the disease. With her grandmother, she then moved to Rockhouse Valley in the Santa Rosa Mountains. When she was about 15, Ramona returned to Cahuilla, where she met Juan Diego. They were married around 1873, probably by Father Verdaguez, the Catholic priest from Agua Mansa.
Like the other men from the village, Juan sometimes worked for the white men who had ranches nearby, but while he was a good worker, they soon found they could not always depend on him. At times, his senses seemed to leave him, and he did strange, crazy things. He was never dangerous, simply "loco", as the white men said.
It was probably because of his condition that Juan and Ramona left the village and went to live in a secluded valley on the slopes of Cahuilla Mountain. There, Juan built a little adobe hut and grew wheat, peaches and plums, while Ramona raised their children -- first the girls, and then their little baby boy.
Then in March, 1883, Juan -- in one of his spells -- took a horse belonging to Sam Temple, a San Jacinto teamster. Temple followed Juan back to his home, and shot him dead in his own doorway while Ramona watched in horror. Taking her infant son, she hurried down to the village, and the men returned to bring Juan's body back for burial.
It was just two weeks later that Helen Hunt Jackson arrived at Cahuilla. She had already heard of Juan's death, and how he had been released without even a trial on a claim of self-defense. Jackson was outraged; apparently killing Indians was not a very dangerous thing to do in this county, she later wrote. She gathered up the details of the crime and included them in her official report to the U.S. Government. Later still, she turned the story into fiction as the climax of her famous novel.
If Jackson ever met Ramona Lubo she does not seem to have written about it. We have her own word, however, that she did not know Juan's wife was named Ramona until her story of the same name was half written -- "how is that for a coincidence?" she said.
By the time she was 30 years old, Ramona Lubo had endured enough tragedy for any one life. Her mother died when she was a baby. Her father was carried away in a smallpox epidemic. Her husband's fits had forced them to live in an isolated valley, and there she watched his murder at the hands of viscous white man.
After her husband's death in 1883, Ramona moved back to the Cahuilla Reservation. Her children all died young; her youngest, her little boy, died before his 15th birthday.
For a time, Ramona kept house for a white rancher, Doc Hopkins. Around 1887 she bore him a son, and named him Condino. But Hopkins had little interest in the boy, and Ramona soon moved back to the reservation, where she lived in a little shack near the cemetery.
What must she have thought when the first readers of "Ramona" came to the reservation looking for the widow of Juan Diego? And why did they insist on calling him Alessandro? But in time she learned that these strangers might also give her a little money if she allowed them to take her picture, and would pay her good prices for her baskets (and she was an excellent weaver).
But the tourists came only now and then, and Ramona had to support herself every day. Like the other women in the village, she sometimes took in washing for the ranchers' wives. Then in the summers, she would journey down to the San Jacinto Valley to work in the apricot camps.
In time, she learned a little English, but she still did not like to talk about her past with the tourists. The story was just too sad.
Still the tourists came. Other times, Ramona left the reservation to appear at shows and fairs. As early as 1908, she went to Los Angeles to be "on display". In later years her niece, Rose Costo, usually went with her to keep her company, and to try and answer some of the tourists' questions. Ramona would sit quietly in a chair, with baskets and other artifacts scattered around her, while a sign out front proclaimed her to be "the real Ramona".
In the fall of 1921, the Hemet Valley Chamber of Commerce hired her to appear at the Southern California Fair in Riverside. Four months later, they hired her again to go to the Orange Show in San Bernardino. People were excited to see her, and the chamber folks soon began talking about turning the Ramona story into an outdoor play.
But the years were catching up with Ramona Lubo. She had several bouts with the flu that winter, and though she recovered, each time she was a little bit weaker. She finally died on the afternoon of July 20, 1922, at about 70 years of age.
For more than a century now, Ramona Lubo's real story has been tangled up in the fictional story of Ramona. But Lubo's real life was more tragic than anything endured by Jackson's fictional heroine -- more tragic because it was real; a life of many sorrows lived by a real person, with real feelings. We owe it to her to remember her true story.
The Murder of Juan Diego
An article I wrote with my friend, John W. Robinson for the Journal of San Diego History in 1994 (we actually won an award for it from The Westerners):
"The Killing of Juan Diego. From Murder to Mythology" (with John W. Robinson)
Garnet Holme, Pageant Master
Thousands of people have given of their time and talents to the Ramona Pageant over the years, but there are just a few of them of whom it can be said that without them, there probably would not even be a Ramona Pageant. Garnet Holme is one of those people.
Garnet was the author and original director of the Ramona Pageant from 1923-28. His script is the only really successful dramatization of Jackson's novel ever written, and a surprising amount of it is still in use today. It was also Garnet Holme who selected the site of the Ramona Bowl (the original idea had been just to stage the play in town somewhere) and Garnet Holme who stressed the importance of using local, community volunteers (and knew as a director how to bring out the best in them).
Born in England in 1873, Garnet spent many years touring with traveling Shakespearean companies, first as an actor, and then as a stage manager and director. He came to America in 1903 to direct plays for the Los Angeles Shakespeare Club, and then produced plays for several years at UC Berkeley.
Over the years, Garnet did outdoor shows all up and down California. He directed the first production at Carmel's Forest Theater in 1910, the founded the Mountain Play on Mt. Tamalpais in 1913 and the Desert Play at Palm Springs in 1921. He did shows in Sequoia and Yosemite, and in 1924 was appointed "Pageant Master" of the National Parks. He also started the Bracebridge Dinner at Yosemite's Hotel Ahwahnee, which has been produced since 1927.
Some of his outdoor plays were quite inventive -- in 1923 he produced a show at Coronado that was carefully timed to make use of a solar eclipse. Others carried strong messages -- his play "Verna of the Red Trees" was a conservation plea (he produced an adaptation of it at Idyllwild in 1925). And many had historical themes -- he even produced shows at two of the California missions, San Juan Capistrano and Sonoma.
But the Ramona Pageant was his great triumph, the one show of his that he thought would "live". He endeared himself to Valley residents with his easy-going style and slightly rumpled charm. Better still, he had the ability to work with all sorts of different people, and bring them together to serve a common goal.
As director, Garnet lightened his rehearsals with fun and jokes. He was especially good at directing children, and worked so that no one in the cast would ever feel uncomfortable or out of place in their role. The people I knew who knew him all thought the world of him.
Garnet believed in the power of theatre to teach. He understood the message of Ramona, and preserved it in his script. Every season, people ask me how much the show has been changed and updated in recent years. They assume the cries for right and justice, and peace between races have been added in our modern, politically correct age. But those lines come from Garnet -- and Mrs. Jackson.
Garnet died in 1929 after a fall at his home in Larkspur, California. His ashes are interred at the Mountain Play theatre on Mt. Tamalpais; a simple plaque bears a line from one of his sonnets -- "I lingered on the hill where we had played." His spirit lingers at the Ramona Bowl as well.
Me on TV
Here's a video of me talking about the history of the old Ramona Pageant as it reached its 90th anniversary in 2013.
"Anyone can do any amount of work, provided it isn't the work he is supposed to be doing at the moment." - Robert Benchley (1889-1945)
© Phil Brigandi