So Cal Historyland
Orange County, California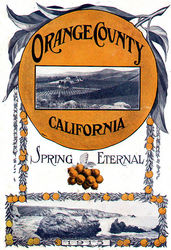 I grew up in the 1960s and '70s in Orange County, and sometimes it's hard to recognize the place today. I don't mean the actual Orange County, I mean the growing image of the place as "the O.C." -- the rich, ritzy, coastal, snobbish stereotype. That's not the Orange County I grew up in (even though we had a summer place in Balboa), and it's not the Orange County I live in today. Yet the image is spreading, picked up by advertisers, magazines, and newspapers. It's an outsider's image -- wishful thinking, at best.
The real Orange County is much more than just "the O.C." Drive the bungalow-lined streets of Orange, or the winding roads in the hills above Tustin. Look at the unbroken swath of tract homes that spreads across Anaheim, Garden Grove, Westminster, and Fountain Valley, or visit the brushy canyons of the Santa Ana Mountains. Even in the newer planned communities of South County, tightly-packed townhomes are more common than lush estates. Sure we have our rich neighborhoods, and a narrow strip of coastline, but that's not how most of us live.
Now that I've gotten that off my chest, here's a little bit about our history.
--Phil Brigandi
King Citrus & Queen Valencia
Once upon a time in Orange County, money grew on trees. Citrus was the crop that made Orange County orange. Citrus - primarily Valencia oranges - once cascaded in green and gold down out of the mountains and along the rich coastal plain in neat, orderly rows, divided by windbreaks of eucalyptus trees. Sixty ago, much of central Orange County was a vast orchard, dotted with little towns like Santa Ana, Tustin, Anaheim, and, of course, Orange. The crop fueled the local economy for decades, creating an Easterner's image of paradise: a sunny, fertile land, where health grew on trees.
There were orange trees growing here as early as the 1860s, if not before (a subject that still needs more research). The first commercial plantings here were in the early 1870s, at a time when scores of new crops were being tried -- most unsuccessfully. In 1875, the first commercial grove of hearty, spring-ripening Valencia oranges was planted by R. H. Gilman on what is now the Cal State Fullerton campus.
In those days, the biggest crop in the area was grapes, grown for wine or raisins. But in the 1880s, local vineyards were ravaged by a mysterious blight, clearing the way for thousands of new citrus plantings.
"Very naturally," wrote Fullerton grower C. C. Chapman in 1911, "an occupation which is so attractive as citrus culture soon interested many enterprising men." And among the enterprising men it interested was C. C. Chapman himself, who grew rich growing and packing his Old Mission brand oranges. But for every large operation like Chapman's, there were dozens of other local ranchers with five-, 10- and 20-acre groves of their own. And the groves meant work for more than just the growers. There were fumigators, pickers, teamsters, packers and sundry other tradesmen living on the wealth of the groves. For example, the Orange City Directory for 1919 shows perhaps one-third of the local workforce employed in some aspect of the citrus industry.
By 1915, there were over 20,000 acres of orange groves in Orange County. By 1936, when Orange County supplied one-sixth of the nation's Valencia crop, there were 64,000 acres, and the citrus industry was generating two-thirds of the county's agricultural income. As late as 1948 there were still 67,263 acres of Valencias - more than five million trees. And that didn't even include other citrus crops, such as navel oranges, limes, grapefruit and lemons.
But in 1949, nearly 7,000 acres of oranges disappeared. The post-war migration to Southern California had begun in earnest, and each year more and more trees fell as housing tracts began to blanket Orange County. By 1985, there were less than 4,000 acres of Valencias in the county, primarily on the Irvine Ranch. Twenty years later, less than 100 acres survived.
Beginning in 1881, when the first local packing house opened in Orange, more than 60 packing houses served local growers. In the early years, many of them were owned by individuals, but later the growers formed their own cooperative associations to handle the packing of their produce.
At their peak, in the early 1940s, 45 packing houses were operating in Orange County. There was the Anaheim Orange and Lemon Association, the Garden Grove Citrus Association, the Bradford Brothers in Placentia, Goldenwest Citrus in Tustin, the Olive Hillside Growers, McPherson Heights and dozens of other plants. These packing houses handled millions of pounds of fruit. In 1929, for example, Santiago Orange Growers in Orange handled some 60 million pounds of fruit - 2,000 railroad cars full - making it one of the largest packing houses in the country.
Today, the old packing houses are best known for their colorful and distinctive advertising labels that were pasted on the ends of each wooden crate of fruit until the introduction of the cardboard box in the mid-'50s. Many featured idyllic scenes or lovely maidens, or promoted their place of origin. There were brands like Rooster, and Bird Rocks, and Cleopatra, and Atlas, and Jim Dandy, and any of a hundred others. Each was unique. They had to be, for their main purpose was to make each packing houses's fruit instantly recognizable to wholesale buyers at Eastern auction markets.
The real marketing, though, was carried on by the old Southern California Fruit Exchange, which after several name changes finally became Sunkist Growers in 1952. Over the years, Sunkist launched vast national marketing campaigns, which promoted Southern California almost as much as they touted its golden fruit.
The Villa Park Orchards Association was the last of Orange County's packing houses to go. Founded by local growers in 1912, they moved their operation to the old Santiago Orange Growers packing house in Orange in 1978, and operated there until 2006, when they moved to Ventura County.
The key to Villa Park's success has been expansion. As other packing associations closed, Villa Park Orchards began enlisting the remaining growers. As early as 1959, they absorbed the Escondido Co-Operative Citrus Association, bringing in important San Diego County acreage. In 1962, they added their first grapefruit and tangerine growers in the Coachella Valley, allowing the packing house to remain active between orange packing seasons.
Villa Park also helped open important new markets around the Pacific Rim, and their fruit can be found in markets and street stalls in Malaysia, Australia, Hong Kong, Singapore, Japan and Korea.
Harold Brewer (1891-1990) was active was active with Villa Park Orchards for decades. He became a member in the early 1920s, when he established his orchard up on the Cerro Villa Tract; joined the Board of Directors in 1930, and served as president of the Association from 1959 to 1970.
A nephew of pioneer Valencia grower R. H. Gilman, Brewer came to Villa Park in 1923. "As far as the area was concerned," Brewer recalled in 1985, "almost all of it was in citrus. A widow down here on Center Street had about 20 acres in walnuts, and outside of that, this whole area was in either oranges or lemons.
"You'd drive along the streets and about all you'd see was a citrus grove and maybe a house on the corner or maybe long driveways leading back into a home. There were windbreaks to protect the orchards from the Santa Ana winds - the 'Devil Winds' they called them. You could drive to town and meet maybe one or two horse-and-buggies, or automobiles. Villa Park had no 'town,' except there was a little store at Villa Park Road and Wanda."
Brewer recalled the growth of the cooperative packing houses: "In the early days, packing and shipping was all [done by] independents. "They would come and either buy your fruit for so much a box - estimating it on the trees - or they would pick it and pack it and pay you so much, with them keeping a commission. And it got to be - if you want it politely - so many robbers. So the growers had to seek a way to defend themselves. That's what started the co-ops back years before Villa Park Orchards was started....
"Just like any other business," he said, "a group can do business cheaper than a single individual. The picking was cooperatively done. The hauling was done by the packing houses - they were still hauling with teams of horses when I came over here. All of these [things] - and the packing - were much cheaper than having somebody in the business to make a profit to do it. That profit was divided back to the growers."
But first the growers needed trees old enough to bear a crop. After all, it takes an orange tree about seven years to reach fruit-bearing maturity, a span of time that conjured up a lot of make-do business, as would-be growers sought to make a living any way they could.
When Brewer bought his grove in 1923, the trees were only a year old. For the next half-dozen years, he raised tomatoes and corn, often picking and selling them himself. He also did orchard work for other ranchers, while still tending his own young trees. When they finally came into full bearing, he began a pattern that continued for more than 40 years:
"The blooming was in the spring - April, May - and you did your irrigation and cultivation. Valencias were a crop that had ripe fruit and blossoms for the next year's crop at the same time, so that in this season you would have the picking of the crop that was formed the season before. Along in the fall, then, you would either fumigate or spray - fumigating for red scale [a parasite] and spiders, or spraying with oil sprays.
"Then by the middle of fall your crop was all picked and you mostly irrigated, cultivated it up and sowed a cover crop, either clover or mustard or something to grow in the winter to make a mulch for the spring to work into the soil to help build it up.
"Then during the winter, if you were in an area like I had in my lower acres here when it got cold, you had to watch the thermometer and maybe once in a while light up some smudge pots. In later years, the smudge pots went out and wind machines went in.
"Then in the spring, you disked up [the soil] with a tractor and worked in this cover crop you'd grown through the winter."
The picking was done by a variety of workers. Local Mexican-Americans made up much of the work force, but, as Brewer noted, "there weren't enough to do the job." During World War II, even German POWs were sometimes used. And the Bracero program (1943-64) allowed migrant workers to come north to add to the local labor force.
Once the fruit was packed in field boxes, it went to the packing house, where it went through a process that remained virtually unchanged for more than a half century. As Brewer explained:
"It went down into the basement of the packing house. They had rooms in there where it was stored for anywhere from a week to two weeks. If it was a season of greenish fruit, ethylene gas was released into these rooms to ripen the fruit.
"Then, when the fruit was to be packed, it was raised on an elevator upstairs and dumped into a washing container. [Then] it was elevated out onto a belt and it was air-dried. In later years, it ran through a machine that put on the waxing and polishing.
"And then it was dumped out onto tables in front of the graders, who put number one fruit and number two fruit onto different belts... Then it went down to the packer's bins." There the fruit was sorted according to size, wrapped in tissue paper and boxed. "In later years," Brewer concluded, "the fruit went out to the pre-cooler and was stored in the cooling rooms before it was loaded into the freight cars to be sent east."
Historic Knott's Berry Farm
The story of Knott's Berry Farm is a unique part of Orange County's past. From its beginnings as a small farm near Buena Park in 1920, it has grown into one of the nation's best-known theme parks.
To learn a little more about early Knott's Berry Farm, click here for notes for a walking tour of Ghost Town I put together in 2010 for the release of Chris Merritt's history of the farm. You can also click here for a few excerpts from the tour on Youtube.
An Orange County Shelf
Local history in Orange County has largely been researched and written by dedicated amateurs - many of whom have had to publish their own books as well. Some books stand out as wonderful examples of what local history is all about. Others less so. Here are 25 of the best books ever written about Orange County - at least that's my opinion. I've decided to list them chronologically:
* Terry Stephenson, Caminos Viejos. Tales Found in the History of California (1930). While Stephenson's next book, Shadows of Old Saddleback, is a local classic, Caminos is a book rich in history.
* Orange County Historical Society, The Orange County History Series (3 volumes, 1931-39). With articles by every major local historian of the day, and pioneer recollections from more than 70 years ago, these three volumes yield more with every reading.
* Robert Glass Cleland, The Irvine Ranch of Orange County (1952; 3rd edition, 1962). A detailed study of the operation of the ranch; the later editions add a chapter tracing the early residential development of the area.
* Leroy Doig, The Village of Garden Grove; The Town of Garden Grove; The City of Garden Grove (1962, 1966, 1977). A remarkable chronicle of a small town that got big.
* T.B. Talbert (honorary editor), The Historical Volume and Reference Works ... Orange County (3 volumes, 1963). The "mug book" compilations have their failings, but this set overcomes them with chapters by Don Meadows and Mildred Yorba MacArthur, and biographies (albeit bought and paid for) of many of the luminaries of 20th Century Orange County.
* Leo Friis, Orange County Through Four Centuries (1965). Still the best one volume of history of Orange County. His many books on Anaheim are also all worth reading. Whenever someone tries to tell me that a subject hasn't been written about before, I always start by checking Friis - and usually I find it there.
* Don Meadows, Historic Place Names in Orange County (1966). An invaluable reference work; Meadows can say more in a few sentences than some authors can in an entire chapter.
* Esther Cramer, La Habra, The Pass Through the Hills (1969; 2nd edition, 2003). A beautiful book in almost every way.
* Orange County Genealogical Society. Saddleback Ancestors, Rancho Families of Orange County, California (1969; 2nd edition, 1998). The work of many hands, it is a little uneven at times, but still an invaluable reference work.
* Edrick Miller, A Slice of Orange. The History of Costa Mesa (1970; 2nd edition, 1976). A solid community history, with that mix of research and recollection that make for the best stories.
* Jim Sleeper, Jim Sleeper's Orange County Almanac of Historical Oddities (3 volumes, 1971-82). Only Jim Sleeper could bring together such a mix of solid history, nostalgia, and mirth.
* Jim Sleeper, Turn the Rascals Out! The Life and Times of Orange County's Fighting Editor, Dan M. Baker (1973). Sleeper's magnum opus, and the best source for the story of the creation of the county and life here in the late 19th Century.
* Ellen Lee, Newport Bay, A Pioneer History (1973). A remarkable amount of detail, handled in an elegant style.
* Pamela Hallan-Gibson, Dos Cientos Años en San Juan Capistrano (1975; 2nd edition, 1990). As Jim Sleeper said, the first history of Capistrano to get beyond the swallows.
* Jim Sleeper, A Boys' Book of Bear Stories (Not for Boys). A Grizzly Introduction to the Santa Ana Mountains (1976). A solid history, despite its colorful title. Even the footnotes make good reading!
* Virginia Carpenter, Placentia, A Pleasant Place (1977). Thorough, well-annotated, and readable, just like all of Virginia's books.
* James Felton (ed), Newport Beach 75 (1981; 2nd edition, 1988). Jim Sleeper's chapter on the Irvine family alone makes this a book to keep handy, and the many other contributors give this book a breadth no single author can provide.
* Doris Walker, Dana Point Harbor/Capistrano Bay: Home Port for Romance (1981; 4th edition, 1995). No one knew Dana Point better - or had a better collection of historic photographs.
* Edrick Miller, The SAAAB Story. The History of the Santa Ana Army Air Base (1981; 2nd edition, 1989). Miller provides the best documentation on the impact of World War II throughout the county.
* Pamela Hallan-Gibson, The Golden Promise. An Illustrated History of Oranage County (1986; 2nd edition, 2002). Another good overview, which benefits from Hallan-Gibson's familiarity with the south end of the county.
* Esther Cramer et al., A Hundred Years of Yesterdays. A Centennial History of the People of Orange County and their Communities (1988; 2nd edition, 2004). The goal was to have chapters on every community in the county by the leading local historian - and we came close to meeting it.
* Stephen E. Donaldson and William A. Myers, Rails Through the Orange Groves, A Centennial Look at the Railroads of Orange County, California (2 volumes, 1989-90). Informative text, crisp illustrations, detailed maps - there's something new to learn on every page.
* Esther Cramer, Brea: The City of Oil, Oranges, and Opportunity (1992). Our leading north county historian brings her long experience to bear on an interesting community.
* Gilbert G. Gonzalez, Labor and Community: Mexican Citrus Worker Villages in a Southern California County, 1900-1950 (1994). A solid book on a neglected topic, it combines deep archival research with memories from the time.
* Diann Marsh, Santa Ana - An Illustrated History (1994). Marsh takes on a big subject and handles it well. Her emphasis on architectural history is an added bonus to her book.
Personal Views
The books above are primarily researched history, but there are several biographies and autobiographies from early Orange County that are also worthy of note. Among them are:
* Joseph S. Thurston, Laguna Beach of Early Days (1947). An interesting view of life in early Laguna Beach, but perhaps even more interesting for its glimpse into its author.
* T.B. Talbert, My Sixty Years in California (1952). One of the most prominent public officials in Orange County in the first half of the 20th Century, Talbert writes with enthusiasm and verve.
* Jessamyn West, South of the Angels (1960). Perhaps the best novel ever written about Orange County - that is, one that best captures the time and place it describes - Angels is solidly based on West's own childhood recollections of Yorba Linda and the memories of her father, Eldo West.
* Charles D. Swanner, 50 Years a Barrister in Orange County (1965). A delightful personal view of the people and events that shaped the county in the early 20th Century.
* Don Meadows, A California Paisano. The Life of William McPherson (1973). A fascinating look into a unique individual.
(P.S. I leave it for others to decide if any of my books are worth reading . . . )
Don Meadows: An Amazing Life
Don Meadows was one of the most remarkable men I've ever met -- historian, scientist, explorer, author, book collector, park ranger, and mentor to two generations of Orange County historians.
He was born October 20, 1897 in Shoals, Indiana. His father, Charles, was an old tramp printer who eventually settled down after getting married and having a son. Charles Meadows worked for papers all over the central part of the country. The winter of 1902-03 found him working on the Pittsburgh Headlight. That was a particularly harsh winter, and Meadows finally had enough. "To hell with it," he decided, "I'm going to California where it never gets cold."
So in March of 1903, the Meadows family came to California. After working in Ocean Park for several months, he met Alice Armor, the editor and publisher of the Orange Post, who was looking for a new shop foreman. Meadows took the job and moved to Orange in October, 1903. Five-year-old Don Meadows and his mother Adah had gone home to Indiana about a month before. Once Charles Meadows was settled in Orange, they returned to join him. They left on Christmas Eve, and arrived in Orange on December 31, 1903.
The many facets of Don Meadows' later life are all reflected his childhood in Orange. In school, he was a bundle of energy. One of his teachers told me she spent the whole year just worrying what he would do next. His interest in the world around him was insatiable. He was forever off tramping through the hills, exploring, bird watching, and collecting. He learned the printing trade at his father's knee, and in 1912 launched a short-lived miniature newspaper called The Postscript, for his fellow eighth graders at Center Street School. In 1916 he served as the founding editor of Orange Union High School's first newspaper, The Reflector.
Don's interest in California history began with his first trip to Mission San Juan Capistrano in 1905. "There was no resident Priest there then," he later recalled, "the Serra Chapel ... was filled up with hay, the patio was covered with weeds, and the whole place was just a disintegrating pile of history." Yet something about the place sparked his imagination. "I don't try to explain it," he once said, "I don't want to explain it, but there was a certain fascination about the mission ruins."
Back home, Don peppered his father with questions about the missions -- none of which a transplanted Midwesterner was equipped to answer. So he pointed his son in the direction of the Orange Public Library.
Don's first attempt at historical research got off to a rocky start. The only thing he could find on the subject was H.H. Bancroft's seven volume History of California, so he asked to see volume one. The librarian, Anna Field, said he was too young, and refused. In 1985 he recalled:
"I went over to Dad and I told him that I found a book, but that Mrs. Field wouldn't let me have it. Well, I had a wonderful father, because he took me by the hand and led me over to the library and he opened the door, and there was a big sign that said 'SILENCE,' but he didn't pay any attention -- I guess he couldn't read. He slammed the door and he went up and he said to Mrs. Field, 'Listen, any time my boy wants a book, whether he can read it or not, you let him have it!' I got the book all right. I walked back over to the newspaper office and I sat down and I read one page and decided that Mrs. Field was right. So that was the beginning of my interest in California history."
Don began assembling his own library of Californiana a few years later. After graduating from Orange Union High School in 1917 he entered Pomona College. Before his freshman year was up, he enlisted in the Navy Signal Corps and spent about six months stationed at San Pedro. To kill time, he started visiting the local library and found several books on California history, including Dana's Two Years Before the Mast. When closing time came, Don asked to check out the book, and once again the librarian told him no; she didn't trust sailors. So the next chance he had, Don rode the Red Car up into Los Angeles and bought his own copy. It was the start of a library that would eventually number over 4,000 volumes.
When the war was over, Don returned to Pomona College, where he earned a degree in Biological Science. After graduation, he went into newspaper work, writing for papers in Pomona and Long Beach. Then in 1925 he heard that Edison Junior High School in Long Beach was looking for a new printing instructor. Don applied and got the job. A year later he switched over to biology, his specialty for most of the rest of his 35 year teaching career. In truth, it might be better to call teaching Don's job, rather than his career. Though by all accounts he was very effective in the classroom, he once told me he was only a teacher from 8 to 2, then he locked the door and walked away.
During his first year at Edison, Don finally settled all of his old quarrels with librarians. He fell in love with one -- Frances Matchette, the school librarian. They were married on April 10, 1926.
It was around this time that Don first became active with the Orange County Historical Society. In the early days, new members were supposed to be invited to join the group, but not Don. Speaking before the Society many years later, he recalled:
"I was always inquisitive, and I wanted to know more about California history. A historical society is supposed to be made up of historians, so I read in the paper someplace that there would be a meeting of the Society. I wasn't invited, I just arrived and sat in the back row and listened. And I guess I went back, because later I did become quite well acquainted with the members -- particularly Terry Stephenson and Bill McPherson. Bill and I got to be very good friends."
Don's first talk at the Society was on January 31, 1927, when he spoke on "Portolá's Pilgrimage Through Orange County". That same year, Don and Frances moved to Catalina Island. Frances later wrote:
"After Don's second year of teaching, he conceived the idea of doing a biological survey of Catalina Island. The schools on the Island had recently been taken into the Long Beach school system, so he requested a transfer to teach in the Avalon High School. I also requested a transfer and was sent over to the Island as the high school librarian. We were to stay there for seven years. During that time we built a home overlooking Avalon Bay, and our son Donald...was born."
Don often said that his first four years on Catalina were the happiest years of his life. But for the last three years he couldn't wait to get off that island. "The whole world was changing," he once told me, "and I was satisfied just to live out on that island." He felt he was getting sedate, too provincial.
Returning to Long Beach in 1934, Don taught at Jordan, and then at Long Beach Poly High. His interest in both the natural and human history of California continued and expanded into other areas, especially Baja California. From 1939-41 he served as a field supervisor for the Channel Islands Biological Survey, sponsored by the Los Angeles County Museum. After World War II, he spent four summers as a Park Naturalist at Big Basin Redwoods State Park.
Slowly but surely, history was taking precedence over biology in Don's life. In 1950 he became a member of the Los Angeles Corral of The Westerners, a prominent historical organization. By 1956 he was Sheriff of the group. He also became active with the Death Valley 49ers, the Zamorano Club, and was Noble Grand Humbug of Platrix Chapter of the E Clampus Vitus in 1961.
His first historical book, Baja California, 1553-1950; a Biblio-History was published in 1951 by his friend Glen Dawson. A few years later he began teaching California history at Orange Coast College in Costa Mesa. He finally retired from teaching in 1960 to devote the rest of his life to historical research and writing.
Back in 1945, Don had bought several acres up on Panorama Heights above Tustin. There, in 1956, he and Frances began construction of their own adobe home La Quinta de los Prados (The Summer Home of the Meadows). He and Frances moved there in 1957, and it would be their home for the next 28 years.
Once he was back in Orange County, Don became a prominent member of many local historical organizations. In 1958 he was one of the founders of Los Compadres con Libros, the county's oldest book collectors' society. When the Orange County Historical Society (dormant since World War II) was revived in 1961, Don again took an active role. In 1973 he helped to found the first historical society in his adopted hometown of Orange, and served on its Board of Directors of many years.
His best-known book, Historic Place Names in Orange County was published in 1966 by Paisano Press. The idea had been suggested by his friend (and Paisano's founder) Dr. Horace Parker. Much of the research was done in Don's own library, which had grown to include maps, newspapers, letters, documents, photographs, and thousands of rare books. In 1972 the Meadows Library was purchased by the University of California, Irvine. I never asked Don what he got for the collection (that would have been too blunt even for me) but I have always heard it was around $50,000.
In 1985, after a rush of farewell parties and honors, Don and Frances moved to Yuba City, California to be closer to their son and daughter-in-law. Frances died there in 1989 at the age of 90. Don lived to celebrate his 97th birthday, then died quietly on November 9, 1994. I will always count myself fortunate to have known him.
(For video of a 1981 talk by Don Meadows at the re-dedication of the old Orange Plaza fountain, click here.)
The Story of the Stearns Ranchos
An overview of the transition from Mexican ranchos to American communities in Orange and Los Angeles counties. Published in The Branding Iron (the historical quarterly of the Los Angeles Corral of The Westerners), Spring 2011.
Orange County Chronicles (2013)
A collection of ten articles on the history of the county, from the earliest Spanish explorers to the population boom of the 1950s and '60s. Topics include: The Birth of Orange County, Chinese Pioneers in Early Orange County, Red Cars in an Orange County, King Citrus & Queen Valencia, The Good Roads Movement, The Great Depression in Orange County, and Boundary Battles of the Post-War Boom. Here's the preview from Google Books.
Orange County Courthouse, A Centennial History (2001)
The story of one of the county's best-known landmarks. Here's a preview from Google Books.
Me on TV
Discover Orange County made a visit to Giracci Vineyards in 2015, and I joined them for the first part of the show to talk about Santa Ana Mountains history, including Williams Canyon.
The Orange County Archives
I was County Archivist from 2003-08, and wrote several of the articles for their website:
"No historian can gain by stubborn independence, or by ignoring fellow-students merely because their books are published at nearly the same time with their own." -- Josiah Royce (1888)
© Phil Brigandi